Walk-In Tubs and Showers in Hampton Roads
Freedom Walk-In Tubs and Showers sells products designed to improve your comfort and quality of life, no matter your age or mobility restrictions. We sell only top-of-the-line products, meeting the needs of every individual customer. From various finishes and styles, to an in-depth understanding of product safety and stability, we provide you everything you need to care for yourself comfortably, with confidence. Consult with our team today.
---
Walk-in Tub and Shower Products, for Therapeutic Relief
For seniors and those with limited mobility, there's always a concern when it comes to showering and bathing. What happens if you slip and fall? How do you support yourself in a shower designed for standing? If these concerns are part of your everyday bathing experience, it's time to consider the benefits of an accessible walk-in bathtub in Hampton Roads, VA.Freedom Walk-In Tubs and Showers recognizes the needs of our aging and disabled populations. We work hard to bring you installations that meet your needs—improved safety and mobility, and therapeutic relief. We know how important independence is to you, which is why we recommend products specifically designed to give you confidence. Choose from tubs and walk-in showers. With numerous options for style and finish, as well as features and design, we're able to help you narrow down your options and bring home a walk-in shower in Hampton Roads, VA that's ideal for you.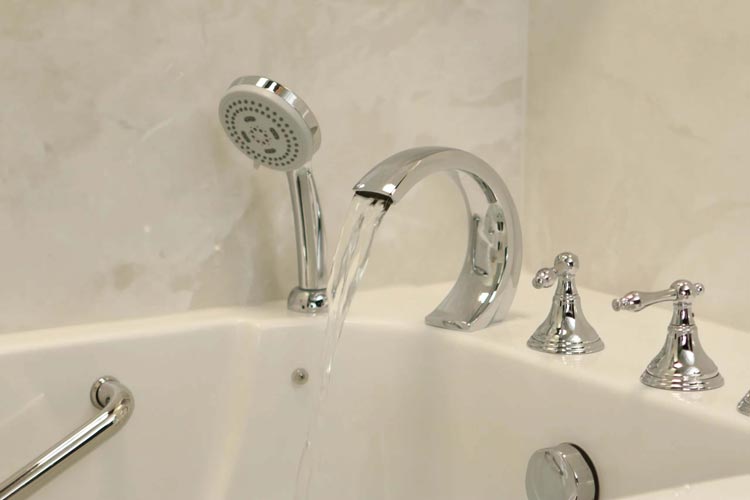 You can count on nothing short of excellence from us.
The products we sell come with a limited Lifetime Labor Warranty and are designed to stand up to heavy everyday wear. We partner with an exceptional installation company to make sure your installation goes smoothly. And, we're always here to answer your questions with a thorough understanding of features, benefits and design. Most importantly, we treat our customers like individuals. Let us meet your needs for walk-in tubs and showers, so you can go through your day independently, benefitting from the safety and relief of a top-quality therapeutic tub or shower.
We're the largest North American dealer of walk-in tubs and showers, proudly serving the Hampton Roads, VA area for more than 18 years.
Our products come with a Lifetime Labor Warranty and are guaranteed not to chip, crack, peel or otherwise erode. They're even mold and mildew resistant!
Our shower and tub installations come in a variety of finishes and styles, making them an instant addition to any bathroom without the need for major renovations.
We put our customers first. No matter your age or ailment, we'll consult with you to ensure you're getting a product that makes your life better.
---
Wellness Through Self Care
You owe it to yourself to be comfortable. Contact us today to learn more about the walk-in tub and shower options we sell, or any of our other products. Let us help you find comfort at home.
Chesapeake, VA
Hampton, VA
Isle of Wight, VA
Norfolk, VA
Portsmouth, VA
Suffolk, VA
Virginia Beach, VA
Windsor, VA
Bayside, VA